One of the favourite scriptures most Christians know would be what is stated in Matthew 7:7; "ask seek knock" but almost all forget ensuing words that stated that the asking, the seeking and the knocking needs to come from the heart!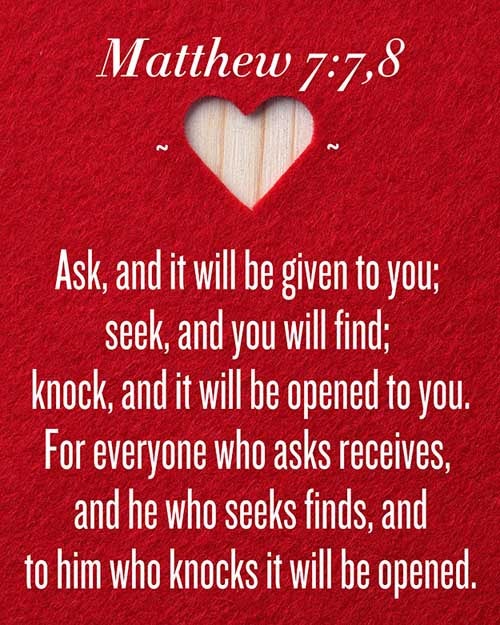 How do you supposed to not have faith nor believe in something yet you want it to work for you? Do not think that the ask seek knock quotation doesn't come with condition. God has demands and do not think that everything just goes with Him.
Many Christians want to be running around with their no faith and expect a miracle to happen just because they attend a church, or friends with the Pastor! I do not suppose you want to be in that category, much better is to read on as a cure to that mentality.
In case you have forgotten too soon too early, it is actually written; For I know the thoughts that I think toward you, saith the Lord, thoughts of peace, and not of evil, to give you an expected end. – Jeremiah 29:11
No only does the Lord have great thoughts for you but He remains where He is and Has never moved from thence ever since but has a request for you…
"Then shall ye call upon me, and ye shall go and pray unto me, and I will hearken unto you.
And ye shall seek me, and find me, when ye shall search for me with all your heart." Jeremiah 29:12-13
Do not expect to forsake someone, want nothing to do the person even though the person keeps extending a hand towards you and has never dropped that hand but the person would come and take you by force? Certainly the LORD God of hosts would not force Himself on any man; Be reminded that He said,  I love them that love me; and those that seek me early shall find me.  – Proverbs 8:17
Do not be confused to thinking everything is for a jolly ride, the LORD God doesn't just throw goodies around especially when He knows there won't be any value on them! What is the point of asking, seeking and knocking when you have not value on them? Take a look at this from Ezekiel and it remains relevant now for those that love God, in the words of God; He says….
I will give them one heart, and I will put a new spirit within you; and I will take the stony heart out of their flesh, and will give them an heart of flesh:
That they may walk in my statutes, and keep mine ordinances, and do them: and they shall be my people, and I will be their God. 
But as for them whose heart walketh after the heart of their detestable things and their abominations, I will recompense their way upon their own heads, saith the Lord
God
. – Ezekiel 11:19-21
But if you are still not convinced about who God is? Check this out;
The
Lord
is righteous in all his ways, and holy in all his works.
holy: or, merciful, or, bountiful. 
The
Lord
is nigh unto all them that call upon him, to all that call upon him in truth. 
He will fulfil the desire of them that fear him: he also will hear their cry, and will save them. 
The
Lord
preserveth all them that love him: but all the wicked will he destroy. – 
Psalm 145:18-19
All the above God promises Christians and thus he says;
"I will put my laws into their(your) mind, and write them in their(your) hearts: and I will be to them(you) a God, and they(you) shall be to me a people – Hebrews 8:10
Again and again Christians are being reminded with all the above who the God we serve is, He is ready to give us what we need if we would ask, seek and knock with faith and with all our hearts. The most important thing prior to receiving, finding or a door opened is waiting on the LORD and that requires a heart that can keep the faith invigorated by Hope! Next time you are on the spree of asking, seeking or knocking, I employ you to to put in the heart that waits with faith and based on Hope.
Prayer;
Dear Lord, teach me Your ways that I can fully understand the things I ask for, those I seek and doors I knock on. Strengthen my faith and and help me to be patient enough to wait on your promises with Hope in your son Jesus Christ.
Amen.