8 Live Online Lessons available for your Children during Lockdown – You're a parent or caregiver, one of the hardest things about the lockdown can be that the schools have closed.
While you try to adjust to a new working from home routine, you're also now homeschooling your children, which is no easy feat.
Here is a guide of 8 Live Online Lessons available for your Children during Lockdown
Start the week off with a mindful approach to the following days ahead. Everyday at 9.30am, join MiniMe Mindfulness on Facebook, where the group provides a mindful coaching session for kids to help keep them in a healthy mindset as both of you all tackle a new normal.
The Facebook group is private, so join ahead of the next class in order to be approved in time.
Made up of a group of teachers and mathematicians, here you'll find five free maths lessons for children (Years 1-8) and each lesson comes with a video that you can watch on your own to understand the lesson first, or with your child.
Each lesson lasts 20-30 minutes and the team behind White Rose Maths is recommending you do one session a day.
We'd suggest making it the second lesson of the day, as members of the White Rose Maths team will be online Monday to Friday between 10am and 11am for a "maths party" on its social media channels, so children can put whatever maths-related questions they may have to the experts and still feel included in lesson time.
There are many live lessons to join across arts, crafts, science and maths online for school pupils of all ages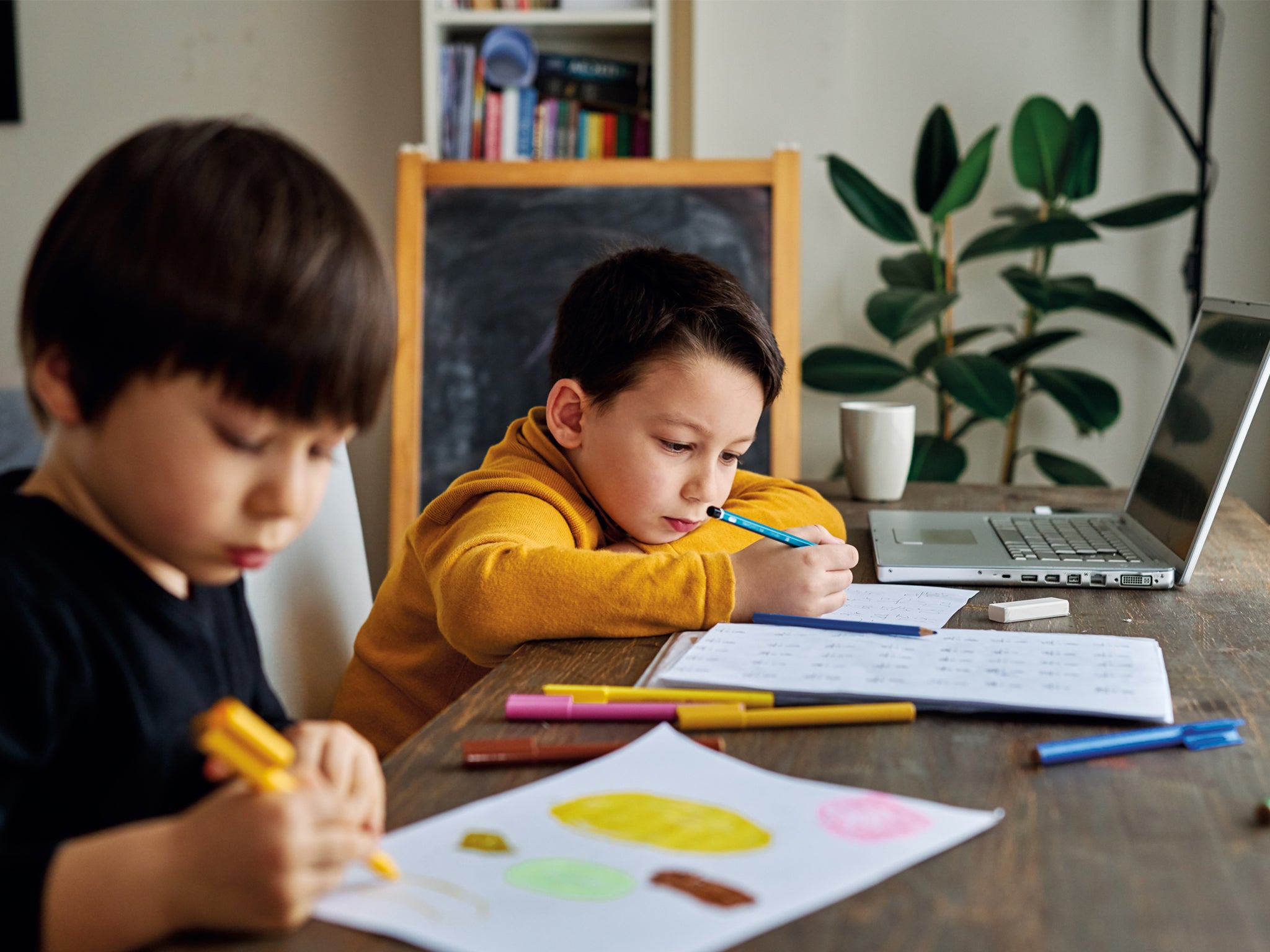 Children's book author and illustrator, Rob Biddulph, is running draw-along videos every Tuesday and Thursday at 10am which you can leave your kids to follow along to, armed with a pencil and paper while you get some of your own work done, or join in too.
The videos are free to watch and subjects include some characters from his books, like sausage dogs along with dinosaurs, aliens, Sonic the hedgehog and even self-portraits. Biddulph also encourages sharing the finished piece on social media using the hashtag #DrawWithRob, a fun way to feel part of an online community.
The online learning hub, Twinkl, has created an extensive website with lesson ideas, activities and live videos for Key Stage 1 to Key Stage 4, which is particularly helpful if you have kids across different learning abilities, aged from three to 16.
It is updated daily and incorporates every facet of schooling from the free PE lessons offered by Joe Wicks to multiplication tables.
There's a free taster pack to download too, with PowerPoints, activity cards, quizzes and games.
Get your children involved in the kitchen with the Feasted Facebook group that does daily cooking classes for children at 10am, every Monday to Friday.
It has 30-minute slots you can book onto as far ahead as 13 May with themed weeks, such as chocolate where kids can get stuck into making recipes such as brownies. Not only will the cooking keep them engaged, but so will the eating.
Study science, engineering and computing with Dr Chips at 10am every weekday, where he teaches children how to code, make musical instruments out of household objects and how cybersecurity works through video lessons and quizzes.
There's clear information on the tools you'll need, some lessons require a laptop and internet connection, while others only pen and paper, so you can pick and choose which one to do with your child depending on your personal resources.
For daily art ideas to keep creative juices flowing for all ages, the Artscooluk page on Facebook offers inspiration on how to lead your art lessons from the kitchen table, which you are encouraged to share on the group to inspire others.
Some ideas include "assemblage art" (a 3D piece of work) using colourful items in your home to make a rainbow in your garden, embroidery stitching and paper wreath painting.
Kick off every morning with a PE lesson from fitness coach Joe Wicks, available Monday to Friday at 9am on his Youtube channel. You don't need any equipment, just some clothes you don't mind your children getting sweaty in and a bit of space for exercises such as jumping jacks.
Got any 8 Live Online Lessons available for your Children during Lockdown, share in the comments below.
Read our piece on 8 Live Online Lessons available for your Children during Lockdown then check this out;
5 Ways on How to Keep Siblings from Killing Each Other During Quarantine
COVID 19 Facts and Fears
How to Prepare for a Lockdown or Self Quarantine amid CoronavirusWhat You Need to Know About Doing Laundry Amid Coronavirus
Connect with the AFROSAGES on FACEBOOK and TWITTER.